Edition number 14.1; dateline 18 April 2008 [amended 6 May 08]
Parks and play indicator unveiled
The government's national strategy for play and the accompanying consultation document, Fair Play, published at the start of April, includes a new annual indicator for parks and play. Every year children and young people will be asked how satisfied they are with their local play areas and parks. Children's secretary Ed Balls commented, "I want local communities and children themselves to play a key role in making public spaces more child friendly. Let's see an end to the 'no ball games' culture and a start of a new era where children's needs and children's play areas are at the heart of the planning process from start to finish." Under the new strategy ministers promised an extra 3,500 play areas and £2 million for thirty local authorities to build new adventure playgrounds as part of £235m Government investment on children's play. While commentators rushed to unpack the figures, Adrian Voce, director of Play England, hinted at some of the frustrations of the play sector when faced with government strategies for children and young people. "The proposed steps should put children at the heart of their communities – not rhetorically but physically, out playing where they belong," he said. "In so doing, the government has finally come good on the full scope of Every Child Matters, recognising that children's enjoyment of play and their freedom and safety as stakeholders in public space is as important as any outcome."
• The stategy document Fair Play can be downloaded in pdf format at the Department for Children, Schools and Families website.
£190m for 'myplace' facilities initiative
'Myplace', the government's £190m initiative to make capital funding available for the development of youth facilities and the promotion of active participation among young people, will be open for applications on 6 May. The scheme, announced as part of the national play strategy at the beginning of April, will be making grants of up to £5m to "local partners across the public, third and private sectors" in support of the pledge in the Children's Plan to "to provide exciting safe places for all young people to go to, and where people can engage in a wide range of positive activities such as sport, dance and music". Grants will be made via the Big Lottery Fund.
News from elsewhere
Capita Symonds Consulting has been commissioned to complete a leisure facilities strategy for Hastings and Bexhill. News that fewer people took up gym membership in 2007 than in the previous year is good news for those who don't need a roof over their heads to exercise, says Major (retired) Robin Cope, managing director of British Military Fitness, who put people through their paces in the open air. Life Fitness and FormulaGFi are to offer fitness qualifications specifically for those working in educational organisations. TLR managing editor Mick Owen did complete his one-mile Sport Relief charity quickstep and is looking for the nay-sayers to cough up for a good cause.
News from Whitehall
Legislation that will herald "sweeping reforms to bring about a renaissance in England's most deprived areas" is included in Prosperous Places: Taking Forward the Review of Sub-National Economic Development and Regeneration, a consultation document published by the Department for Communities and Local Government (DCLG). Find it via this link to the DCLG website and have your answers in by 20 June 2008. The Department for the Environment, Food and Rural Affairs (Defra) has launched the Agriculture and Horticulture Development Board, a new organisation to benefit farmers and growers. The Department for Culture, Media and Sport (DCMS) has launched a funding programme for economic regeneration in coastal areas called (wait for it) Sea Change. Blackpool, Dover and Torbay will be the first towns to benefit from up to £4 million each for cultural and heritage projects. Proposals to accelerate entry into the Building Schools for the Future programme have been published for consultation by schools minister Jim Knight.
Who's whom
Award-winning choreographer Wayne Mcgregor has been appointed the country's first dance champion for young people by the DCMS. Baroness Dean of Thornton-le-Fylde has been re-appointed as chairman of the Covent Garden Market Authority. The Tytherington Club has appointed Mark Law as general manager. Mark was previously at Esporta's Lancashire Health and Racquet Club. He is joined by Anna Weaver as membership manager, Joe Fleetwood as golf operations manager and Anthony Haste as the club's head golf professional.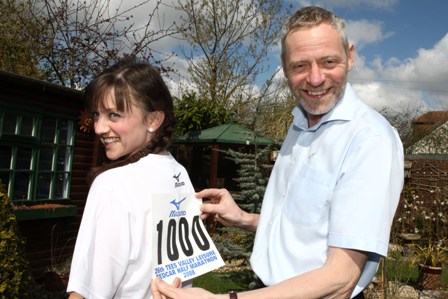 One thousand and counting: Jayne Parkin receives her race number for the 26th Tees Valley Leisure Redcar Half Marathon, which takes place on Sunday 20th April, from race organiser Paddy Corcoran. "I took part in the event for the first time last year when my mum's friend was forced to drop out at the last minute," Jayne said. "I enjoyed it so much that I decided to take part again this year."