Edition number 29; dateline 26 June 2009
Royal approval for link between parks and literature
The Royal Parks are hosting a series of events that is demonstrating the link between two of the most celebrated aspects of leisure provision: literature and open space. Eight writers have been commissioned to produce short stories inspired by one of the Royal Parks and public readings are being held in the parks over the summer. Rowan Routh, who edited the series, explained that the Royal Parks have made frequent appearances in literature, with Chaucer, Virginia Woolf, Charles Dickens, Henry James and Sylvia Plath all using the parks as locations. "This series is a great way to celebrate both the literary heritage of the parks and the short story," she said. "There's a kinship between parks and short fiction – both confined things but no less for being so. They're perfectly matched to be enjoyed together." Author Clare Wigfall opened the season of readings in St James's Park with her story of intrigue and exotic aviaries set in 1664. "The Royal Parks are bursting with stories," she said, "so it was an absolute pleasure to be commissioned to write on a subject so inspiring, that from the very outset ideas were already sparking like fireworks in my mind. I chose to write about St James's because it was a park I could visualise well from my Berlin study but it was the day I spent wandering in its grounds with the park keeper that saw the blossoming of my story, Along Birdcage Walk. The park keeper mentioned the gilded cages of exotic birds that used to line the avenue in Charles II's day and this was an image so beautiful and evocative I knew that I wanted to bring it again to life through my fiction." The full list of authors taking part comprises: Nicola Barker (Greenwich Park), William Boyd (The Green Park), Shena Mackay (Richmond Park), Will Self (Bushy Park), Ali Smith (The Regent's Park), Adam Thorpe (Hyde Park), Clare Wigfall (St James's Park) and Hanan al Shaykh (Kensington Gardens). The readings are free and copies of the stories are available at a cost of £2.
• Full details of the programme can be found at www.parkstories.org.uk
Place survey raises questions over leisure quality perceptions
A survey of how the public perceives their local area brought some predictable headlines in the national press and some interesting reading for leisure professionals. Place Survey: England 2008 was published by the Department for Communities and Local Government (DCLG) in June to provide "information on people's perceptions of their local area and the local services they receive". The survey, the first of its kind carried out by the DCLG, put the City of London at the top of the 'satisfaction league' but the City's tiny resident population allowed Richmond upon Thames to claim the 'best place to live' title with a 92.4% approval rating of local services. When Richmond Council were asked to comment, their statement put their success down to a low crime rate and green spaces. In the City's case, residents pointed to a seven-time-a-day street cleaning regime and the Barbican arts centre as leading attributes. Further down into the detail of the report a national aggregation of responses showed 69% of respondents satisfied with their parks and open spaces, and 69% satisfied with their libraries. However, sport and leisure facilities drew a 46% satisfaction rating, with theatres/concert halls at 43%; museums and galleries came in at a lowly 41%. The assessment of the survey's data noted that the response rate was low (less than 30%) and that "some caution may be necessary when using the results to set performance targets" but the figures will still provide food for thought for leisure services around the country.
• The full report can be found at www.communities.gov.uk

Changing the guard at Sportscoach UK
Despite nothing official from their Leeds headquarters, it seems that Sportscoach UK are in the extended throes of parting company with group chief executive officer, Pat Duffy, after nearly four years. Details of the imminent departure have been an open secret for a number of weeks and when asked for a substantive comment the Sportscoach UK press office said the company had "nothing to contribute" and we should direct our enquiries to Helen Davey, listed on their website as UK Coaching Framework programme and policy director.

Sport England announce £20m investigation
Sport England has launched an independent inquiry into the appearance of an apparently unauthorised payment system that has had access to £20 million of Sport England funding. The World Class Payments Bureau apparently came to light in the last weeks of 2008 when the Sport England accounts department informed the chief executive, Jennie Price, of the existence of an account that had received funds totalling £19.7 million. The account, which had previously been used to make supporting payments to small governing bodies of sport, had last been used a few days before Price took up her post March 2007 and, having been made aware of the account's existence, Price immediately closed the account and set up an investigation. Sport England has commissioned Tim Dutton QC to lead the investigation and the report will be made to the chair of Sport England and Sport England's funding department, the Department for Culture, Media and Sport, this autumn. Sport England has confirmed that the account had operated "outside the usual financial controls of the organisation" and had not been included within the organisation's audited accounts. It also confirmed that the account had been dormant since March 2007.
Burnham takes leisure message to the Department of Health
With Westminster barely stood down from official fever pitch after months of political turmoil, one could easily have missed the news that former culture secretary Andy Burnham has fetched up at the Department for Health. While some will lament Mr Burnham's departure as a loss to the government's leisure department, others have already noted that the message of sport, leisure and culture as an important part of improving the health of the nation seems to have travelled with him. Speaking to the Guardian shortly after his appointment to his new post, the health secretary explained that physical activity should be a fundamental part of the National Health Service. Burnham said that investment in leisure services that would encourage people to get – and stay – fit should be part of the NHS budget. "I will make it a personal priority to embed in the NHS culture the promotion of physical activity," he said. "I want to signal from day one a very big and large green light to every primary care trust in the country that it's not a risky or a frowned-upon thing to start putting money into physical activity promotion… There has been a sense I think out there that it's a little bit of a sideline, but the time has come to really attack that much more aggressively." Burham said that he would be putting his full weight behind the Change4Life fitness awareness campaign: "For the NHS, that is the direction it's got to go' a prevention service to keep people healthy in the first place."
Win a rotovator!
West Sussex firm Tracmaster Ltd -- known across the horticultural industry for the reliability and performance of its ground care machines [That's enough. Ed.] – is marking 25 years of successful trading from its base in Burgess Hill by launching a competition to win one of their best-selling products, the Camon C8 rotovator, worth over £2,000. Anyone can enter via their website www.tracmaster.co.uk and the closing date is 31st August. The anniversary has also acted as a catalyst for the recruitment of fifty new authorised dealers in the UK and Ireland and the launch of three new products: a hydraulic rotavator, a multi-purpose tiller and a new portable twin-chute chipper-shredder.
Bouncing into trouble
The British Medical Journal has risked being nominated for the 'stating the bleeding obvious' award by warning that alcohol and trampolining don't mix. Dr Andrew Bogacz and colleagues at Ninewells Hospital and Medical School in Dundee analysed fifty cases presenting to their accident and emergency department over six weeks. They found that having more than one person bouncing at a time is dangerous, especially for the lightest person involved, and that drunken adults, whether bouncing or supervising, do not help. To paraphrase: "Don't try a barani with your Bacardi."
Pricing approach to activity promotion
Suffolk Sport is trumpeting the decision by Anglia Community Leisure to slash junior prices for use of the all-weather pitches at Brandon and Mildenhall leisure centres to just £1 per person per hour. Previously the pitches were only available at an hourly rate of £33.50, which was fixed no matter how many people were using them. Tony Bass, chief executive of Anglia Community Leisure, says: "This is all part of our plan to get more young people active. We've offered happy hours during the last few half-term holidays and they've proven very popular so we're now extending this throughout term time to get better use out of our facilities and to get more young people out there to play."

Miscellaneous news

Australia has retained its status as Commonwealth Pool Lifesaving Champions, fending off stiff competition from Canada and South Africa. The men who run rugby league in Australia have called for clubs to actively promote women into more senior roles, including board positions. They are "strongly of the view" that there are a large number of women in corporate life who could add real value to rugby league clubs at a Board level as well as in administrative roles. Chief executive David Gallop said: "It is important going forward that the make-up of Boards in some way reflects the fact that almost half the game's fans are women and that an increasing number of women are involved in administration and game participation." For the second year running Benton Hall Golf and Country Club has won the club of the year award in the 4,000-plus members category at the FIA FLAME Awards 2009. Pulse Fitness is delighted to announce that Salford City Council and Salford Community Leisure have agreed a five-year partnership deal with Pulse to supply fitness equipment and supporting services across all its sites. Titian's The Triumph of Love, acquired by the Ashmolean Museum, Oxford through the Acceptance in Lieu scheme, is to be exhibited in Room One of the National Gallery following its recent rediscovery and cleaning. Last exhibited in 1960, the painting's true quality was obscured by dirty varnish and overpaint, leading to doubts being cast on its authorship. Capita Symonds' countryside management team has launched a new mountain bike trail design service in conjunction with internationally renowned mountain bike course sculptor Phil Saxena and specialist contractor Dinsdale Moorland services. Capita Symonds has also been successful in securing £3.9m of capital funding on behalf of Warrington Borough Council for a new 14-19 diploma centre within the £30m Orford Park project. A blue plaque commemorating Sir Douglas Bader has been unveiled at 5 Petersham Mews in Kensington, London. Shokk has announced its fourth site in association with Holmes Place, Portugal.

Around the corridors

Sports minister Gerry Sutcliffe has announced the creation of a new voluntary funding arrangement to bring in at least £15 million over the next three years for the research, education and treatment of problem gambling; a new body, the Responsible Gambling Fund, has been set up to distribute the money. The latest communities and local government secretary, John Denham, has pledged to re-examine the relationship between central and local government as part of the government's drive to renew Britain's democracy and restore trust in the political system at every level. Boris Johnson has unveiled a new council to promote and rebrand London, the imaginatively named Promote London Council. The council is charged with creating a more comprehensive and joined-up approach to promoting the capital, particularly in the run-up to the London 2012 Olympic and Paralympic Games.
London 2012

The 'big build' of the international broadcast centre and the main press centre is apparently on track now that plans have been approved by the Olympic Park planning committee. The London 2012 Open Weekend (24 – 26 July 2009) promises a series of events across the country "enabling access to excellence in the arts, culture and sport and celebrating three years to go until the London 2012 Olympic Games". The Olympic Delivery Authority (ODA) has confirmed final agreement for the Triathlon Homes joint venture company to purchase 1,379 affordable homes on the athletes' village development. The Nielsen Company has become official market research services provider to London 2012 and Holiday Inn and Holiday Inn Express are now the official hotel services provider. Ten percent of construction workers working on the Olympic Park are walking or cycling to work, as the ODA continues to work towards getting 5% of spectators walking or cycling to events for London 2012. Information outlining plans for temporary controls to street trading and advertising in 2012 has been published.
Who's whom

Irene Lucas, leisure stalwart and chief executive of South Tyneside Metropolitan Borough Council since 2002, has been appointed to the post of director general for local government and regeneration within the Department for Communities and Local Government. David Prout, executive director for planning and borough development for the Royal Borough of Kensington and Chelsea, has been appointed director general for communities in the same department.The National Skills Academy for Sport and Active Leisure has appointed Florence Orban as its CEO on a permanent basis. Baroness Kay Andrews has been appointed as the new chair of English Heritage.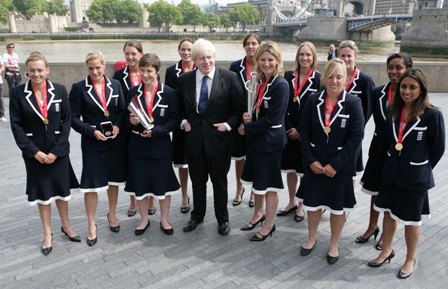 BORIS ON THE BALL: With the plaudits of press and public still ringing in their ears, the England women's cricket team followed victory in the Twenty20 world cup competition with an audience with the mayor of London, Boris Johnson. Mr Johnson welcomed the team, commenting: "The brilliant performance and triumphant victory of the England women's cricket team will inspire thousands of young women to get involved in one of the greatest team sports. I was delighted to personally congratulate them today and am particularly pleased that they achieved their victory at Lord's, one of London's finest sporting venues. I wish the team continued success and thank them for making us all very proud."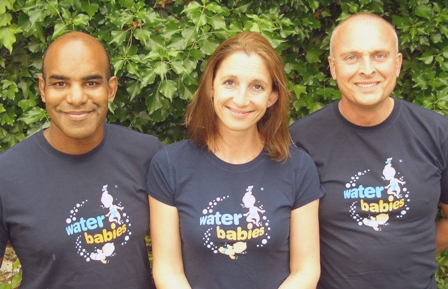 NEW WATER BABY: Steve Franks (right) has joined Water Babies Ltd as the company's new managing director. Water Babies was founded in 2002 by Jess and Paul Thompson (centre and left)and has grown to become the UK's leading commercial baby swimming company.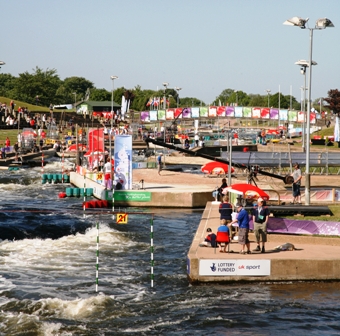 TOP MARKS FOR NOTTINGHAM WATER: Over 25 nations, 320 volunteers and nearly 3,000 spectators made the 2009 European Canoe Slalom Championships, held at the very end of May in Nottingham, a real success. The last time a major international canoe slalom competition took place in the UK was the World Championships in 1995 but despite not regularly hosting such events there were positive reviews all round. The competition took place at the National Water Sports Centre at Holmepierrepoint, which is now managed by Nottinghamshire County Council and recently benefited from a £700,000 upgrade, making it the best course in Britain and, according to the Russian team manager, the best course in Europe. Campbell Walsh, Olympic Silver medallist from Athens, described the event as the 'highlight of his career."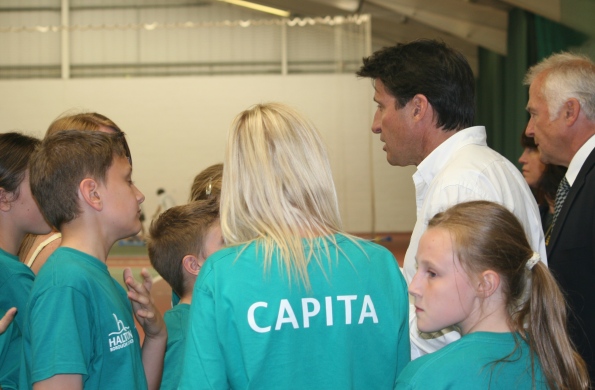 2012 COMES TO MERSEYSIDE: As part of the drive to promote the concept of legacy, Seb Coe visited the Merseyside Primary Games which in one form or another has been going for the last eighteen years. He saw 1,200 young people taking part in ten sports.