Edition number 53; dateline 2 August 2011
Coaching Insights go global
The Leisure Review has launched its autumn series of Coaching Insights seminars with its usual marketing brio. Claims that the half-day continuing professional development (CPD) opportunities for "developed coaches" are "going global" translate to the fact that the programme is being rolled out to Winchester, Warrington and Leighton Buzzard. Working in partnership with the county sports partnerships of Hampshire, Cheshire, Luton and Bedfordshire, and Nottinghamshire, TLR will offer local coaches the chance to get out of their work or sport silos, meet their peers from other sports and hear from experts in the fields of coaching and coach education. CJ Lee, coaching development manager with Sport Hampshire and the Isle of Wight, explained why he was so keen to bring a Coaching Insight to his patch: "One of the challenges for coaching is providing inspiring and innovative CPD opportunities for developed coaches and the Coaching Insight does just that. The Leisure Review consistently provides thoughtful and challenging articles on the current issues in coaching and the Insight seminar will allow our coaches to really get to grips with the issue of the changing demands on them in the current climate."
• For full booking details visit the TLR events page.

Hurry, hurry: Leading Learning Programme closing date
The closing date for the 2011/12 National Culture Forum Leading Learning Programme is 8 August. For full details visit the Leading Learning website at www.ncfleadinglearning.co.uk where you can download the application form and find contact details for the programme director, who will be happy to put you straight and sign you up.

Clubs ignoring grant fund
Sport England have issued a plea for clubs and other sporting organisations to apply for money from Sportsmatch. Dressing up their neediness by linking the sponsorship-matching programme to the Olympics, the press release says: "With a year to go until the start of the greatest sports festival on earth, Sport England is again encouraging clubs across England to see how they can benefit from the Sportsmatch programme." The reasons that clubs are not flooding the Sportsmatch office with applications for free money is not addressed, although The Leisure Review might be moved to suggest that finding commercial sponsors in the current climate takes more time and energy that grassroots clubs have to give; and the when they do the Sportsmatch application process is one hoop too many to jump through.
Pulling women: a guide
The Women's Sport and Fitness Foundation (WSFF) has launched a digital toolkit for sports organisers and deliverers looking to target young mums, teenagers, young professionals or other groups of women. The toolkit provides practical information on setting up, launching and marketing the offer to a range of female audiences using downloadable factsheets. Sue Tibballs, chief executive of the WSSF, explained: "We wanted to create a resource that was rich with ideas, easy to use and could be tailored to support programmes for different female audiences and levels of activities The toolkit was created by collating our existing research into a usable guide and talking to different sports and fitness practitioners that are already running some exciting sports and fitness projects for women."
Download a pdf version of this article for printing
News in brief
Staccato reports from the cultural typeface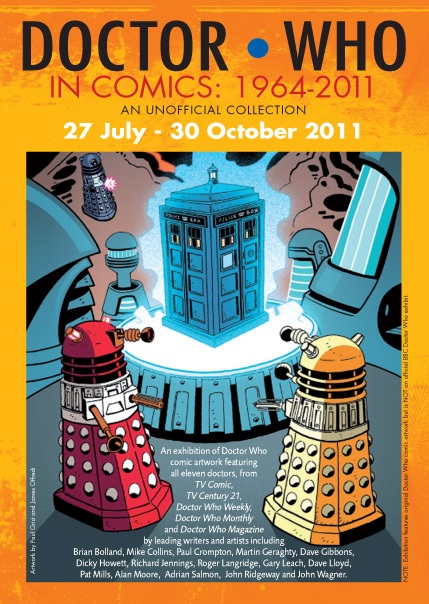 One of The Leisure Review's favourite London galleries, the Cartoon Museum, is hosting an exhibition of Dr Who in comics. First drawn in 1964, it seems that the recently re-energised and perpetually rejuvenated character is the world's longest running comic character based on a television programme. The exhibition, which runs until the end of October, features more than 100 works and is the first to show the Doctor in his many incarnations. All eleven television Doctors are featured, plus Peter Cushing's early film Doctor.
For full details visit www.cartoonmuseum.org